*Live Stream today & Friday! 
JOIN THE NATIONAL PRAYER ASSEMBLY ~ America is at a Tipping Point! 
Over 20 national prayer groups come to Wash DC, 10/27-10/28, seeking God's face for the deliverance & destiny of America.
Live stream this Thursday from 5am to 6pm (Pacific): https://zoom.us/j/914692777.  Live stream Friday from 5am to 2pm at: https://zoom.us/j/360647770.
Dear Friend,
You are invited to join an assembly of brothers and sisters in Christ from many different organizations, denominations and locations across our nation via LIVE STREAM! All have a burdened heart for this land we love and are coming together to our nation's capital to pray at such a time as this. As one theologian put it, "History belongs to the intercessors, who believe the future into being." America is now at a historic crossroads with growing threats within and without. It is a tumultuous election year and an absolutely pivotal time in our existence as a country. A dysfunctional and divided government has become increasingly ineffectual in dealing with our growing problems, including a $20 trillion debt hanging over our heads. In addition, our society is becoming progressively more apathetic and cold to the things of God. Surely, we need a new Great Awakening to turn America around before we careen off the looming cliff before us and the hope of restoration is dashed to pieces.
A critical component in this pursuit of awakening is the coming together of both America's prayer and ministry movements to seek His face. We need to join forces, praying with one heart and mind for a fresh, massive outpouring of His Spirit that will bring revival and transformation to our battered and dispirited nation.
It is time to gather ministry leaders for two days of insightful presentations by national experts followed by concentrated intercession, listening, and sharing what God is saying to us. As in the National Prayer Assembly of October 2014, our approach will be to pray at least twice as much as we talk…
The National Prayer Assembly
http://www.nationaldayofprayer.org/national_prayer_assembly_2016_in_washington_dc
---

*In Theaters Now!
I'M NOT ASHAMED, The Inspiring True Story of Rachel Scott at Columine High School.
Josh McDowell says, "Every believer & every chruch needs to see I'm ot Ashamed. It is that significant for our time." A relevant and timely film by Pure Flix, the producers of God's Not Dead and God's Not Dead 2.
"If I could get every teenager in the country to watch just one of the 140 films I've viewed in the last 12 months, hands down it would be I'm not Ashamed." Bob Waliszewski, Focus on the Family.
"Authentic, moving and a must see," Jememy Camp. Find a theater near you: https://imnotashamedfilm.com/
---


*MY FAITH VOTES  Wed Nov 2  Live on-line event at 6pm (Pacific)
No longer can we, as believers, afford to be indifferent or assume that, through the actions of others, our nation will be restored. It's a period in America's history that's now calling for more. It calls for the intentional commitment of all 90 million believers united by the conviction of our faith to influence the culture around us. Please join Dr. Ben Carson, Dr. David Jeremiah, J.D. Greear, Reverend Samuel Rodriguez, Megan Alexander, Keith Craft, Vance Pitman and Texas State Representative Scott Turner as we join the conversation about the importance of our faith in American culture and politics. Hear music by 8-time Dove Award Winner, Todd Smith of Selah. Join at http://MyFaithMatters.live
---


*VOTER GUIDES For those interested in some conservative Pro-Life Voter Guides:
https://www.electionforum.org/california-november-2016-voter-recommendations/ Craig Huey from Los Angeles
http://saltandlightcouncil.org/elections-voting/
http://savecalifornia.com/election-center.html
---

*THE REPUBLICAN and DEMOCRATIC PLATFORMS Differ on Israel ~~
In the past both Platforms had similar language supporting a two-state solution. However, the Rebulican party dropped that language in July, and made the most pro-Israel plank ever. The platform calls for Jerusalem to be recognized as the eternal capital of the Jewish state and for the American embassy to move there [from Tel Aviv]. It rejects the notion that Israel is an occupier and calls the BDS movement anti-Semitic. [The BDS movement has been hosting rallies & lectures during the "Israeli Apartheid Week" on university campuses across America & around the world. The Democratic Platform also opposes "any effort to delegitimize Israel, including at the United Nations or through the Boycott, Divestment, and Sanctions Movement."]
2016 Republican Platform
"Our Unequivocal Support for Israel ~ Like the United States of America, the modern state of Israel is a country born from the aspiration for freedom and stands out among the nations as a beacon of democracy and humanity. Beyond our mutual strategic interests, Israel is likewise an exceptional country that shares our most essential values. It is the only country in the Middle East where freedom of speech and freedom of religion are found. Therefore, support for Israel is an expression of Americanism, and it is the responsibility of our government to advance policies that reflect Americans' strong desire for a relationship with no daylight between America and Israel. We recognize Jerusalem as the eternal and indivisible capital of the Jewish state and call for the American embassy to be moved there in fulfillment of U.S. law. We reaffirm America's commitment to Israel's security and will ensure that Israel maintains a qualitative military edge over any and all adversaries. We support Israel's right and obligation to defend itself against terror attacks upon its people and against alternative forms of warfare being waged upon it legally, economically, culturally, and otherwise. We reject the false notion that Israel is an occupier and specifically recognize that the Boycott, Divestment, and Sanctions Movement (BDS) is anti-Semitic in nature and seeks to destroy Israel. Therefore, we call for effective legislation to thwart actions that are intended to limit commercial relations with Israel, or persons or entities doing business in Israel or in Israeli-controlled territories, in a discriminatory manner. The United States seeks to assist in the establishment of comprehensive and lasting peace in the Middle East, to be negotiated among those living in the region. We oppose any measures intended to impose an agreement or to dictate borders or other terms, and we call for the immediate termination of all U.S. funding of any entity that attempts to do so. Our party is proud to stand with Israel now and always." pg 47
---
*PRESERVE LIBERTY Prayer Conference Call this Saturday  Oct 29
With host Mark Matta at 8am dial 712-432-0075, then code 590429#.
---

*HEALING ROOMS OF SANTA CRUZ COUNTY open Nov 5 and Dec 3 
The Healing Rooms & House of Prayer meet the 1st Saturday monthly. November 5 at 1pm to 3:30pm at the Aptos Grange Hall, 2555 Mar Vista Dr. Aptos.
Saturday, Dec 3, at 12 to 2pm at the Mid County Senior Center, 829 Bay Ave, Capitola. HOP Intercessor Team meets weekly in Aptos at 7 to 8:30pmContact for location: 831-531-8377. More info http://www.healingroomsscc.org/
---
We are expecting a healing explosion in the Bay Area! Come get trained…

Don't miss this conference ~ starts this Friday! 
HEALING ROOMS NOR CAL CONFERENCE with CAL PIERCE  Oct 28-29  Treasure Island
International Directors of the Healing Rooms, Cal and Michelle Pierce (from Spokane) come to San Francisco! SF Healing Rooms directors, Alex & Margaret DeMartini and C3 Church host conference on Treasure Island. Full conference with meals ONLY $52 (or no meals $20). Also, only $62 for couples (with meals); or $30 for couples (no meals). Starts Friday 7:30pm and Saturday 9am to 8pm. Space and meals limited, so register early. Healing Room leaders and Pastors (only) meet with Cal Pierce Saturday 1:30pm-2:30pm. Prayer for the sick 2:30pm to 4pm. Saturday evening session, 5pm to 8pm. www.healingrooms.com. More info and register: https://www.eventbrite.com/e/healing-rooms-conference-2016-tickets-26731292014
---
VENTURE HOSTS ANALOG tonight!  Thurs  Oct 27  Los Gatos
Analog is a monthly Christians in tech meetup hosted by Venture Christian Church. Meetings include executives, developers, designers, marketers, & product managers all using their gifts for the Kingdom. Join us at the Coffeehouse at Venture Christian Church at 6:30pm – 8:30pm, 46845 Hicks Rd, Los Gatos.  http://venture.cc/
---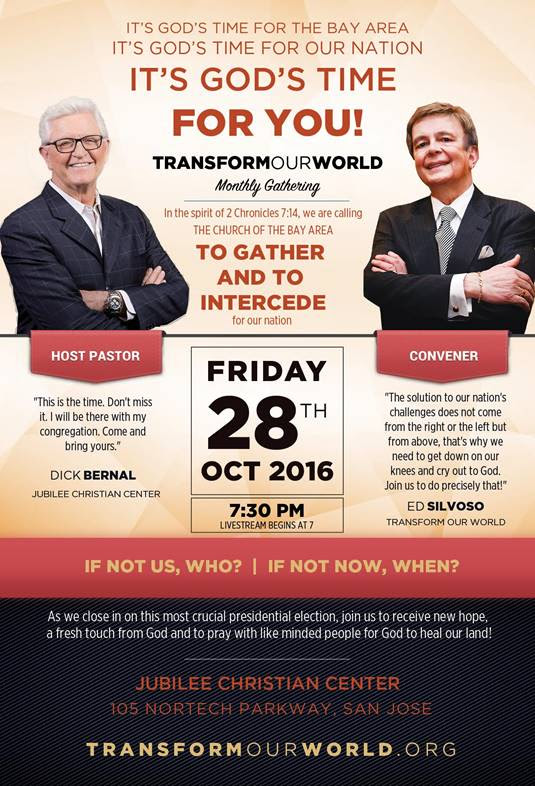 IT'S GOD'S TIME FOR THE BAY AREA & FOR THE NATION! this Friday!  Oct 28  Jubilee San Jose
Transform Our World with Ed Silvoso and Dick Bernal hosts a "Time to Gather and to Intercede!" Livestream available. Doors open 7pm at 105 Nortech Parkway, SJ.
---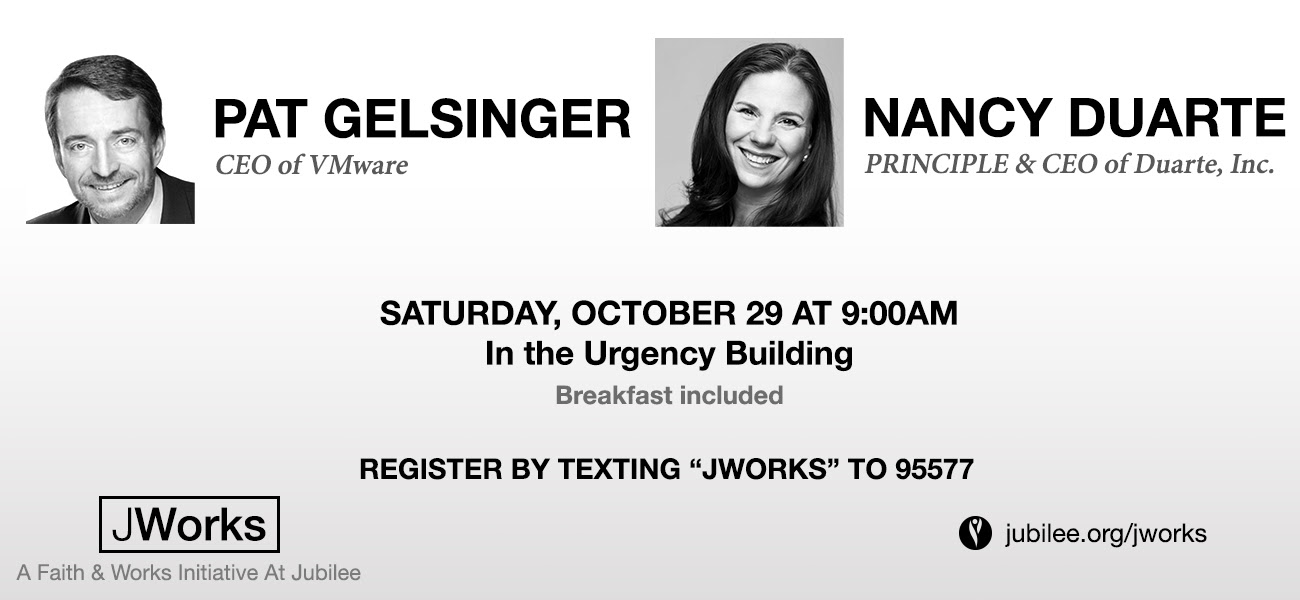 *JWORKS WITH PAT GELSINGER & NANCY DUARTE this Saturday!  10/29  Jubilee
Jubilee's Group Business Leaders – is thrilled to announce that it will be hosting a breakfast session featuring Pat Gelsinger, CEO of VMWare and Nancy Duarte, CEO of Duarte, Inc.
During Pat's session on Choices, Decisions & Strategies, he will share his insights on business decision-making at VMWare and formerly at Intel and how God revealed winning strategies to succeed in the corporate world. Nancy is a master communicator and presenter. She will present on Inspire Change through Speeches, Stories, Ceremonies and Symbols, laying out a plan to help you lead people through the five stages of transformation using speeches, stories, ceremonies, and symbols. To envision the future is one thing; getting others to go there with you is another. By harnessing the power of persuasive communication you, too, can turn your idea into a movement.
Come with an expectation. You will walk-away with a business tool and a spiritual weapon to guide you through the next best decision and presentation you make at your work place. This is Real Life… Real Problems…  Practical application… with God-inspired solutions.
Share with a friend, coworker, neighbor, or your adult children. Info on JWorks & Works-Sponsored life groups contact teresah@jubilee.org. $5 – Must register to attend: http://jubilee.org/jworks/
---

HOPE FROM HEAVEN this Saturday! Oct 29  Alameda
MSH Healing Conference from 1:00pm-4:00pm at the Alameda Christian Reformed Church at 2914 Encinal Avenue, Alameda.
---
DR SUSAN RICHARDS & Team this Sunday!  Oct 30  Palo Alto
Dr. Susan Richard's current project is to develop a Medical and Health Ministry Training Program of Supernatural Healing as well as Healing Centers/Community Centers that are inspired by the love, joy and healing presence of Jesus. Everywhere she teaches and releases words of healing, we see miracles abound! Bring family and friends who need supernatural miracle healings from God.
Miracles and Healing Meeting
from
7pm-9:30pm
at at the
 Cubberly Community Center 
H-1 Lecture Room, 4000 MiddleField Rd, Palo Alto. 
http://www.medschoolhealing.com/
---

*COMEDY NIGHT OUT for Women  Nov 5  San Jose
We all need a good laugh sometimes. Anita Renfroe will surely have you rolling with her unique take on being a woman, growing older, motherhood, pop culture, and Spanx! Get a VIP ticket for an exlusive meet-and-greet with Anita before the show! Or grab a group of friends to get the group discount! $15 to $30 with promo code "FCC" for host church rate. At 7pm (or 6:15 VIP Meet & Greet) at 478 Piercy Rd, San Jose. http://www.fccchurch.com/eventsinfo/flatoutfunny
---

*2016 International DAY OF PRAYER For the PERSECUTED CHURCH  Nov 6 & 13 (Sundays)
Join a 12-hour prayer conference call from 5am to 5pm (Pacific). Dial 712-775-7035 then code 281207#
https://voiceofthepersecuted.wordpress.com/2016/10/18/event-2016-international-day-of-prayer-for-the-persecuted-church-idop-mark-your-calendars/
(Voice of the Persecuted) Do you know in some parts of the world, it's dangerous to be a Christian? Statistics say 100 million Christians face persecution daily. For them, at best, life is difficult. At worst, it's a nightmare. Because in many countries, Christians are imprisoned—tortured—harassed—beaten—and even killed for their faith. So what can you do?
SPEAK UP against persecution—DEFEND those discriminated—HELP those in need—PRAY for those suffering.
PARTICIPATE: The IDOP
event is a global day of intercession for Christians facing persecution worldwide. Its focus is to encourage the Body of Christ to intercede in prayer on behalf of our suffering brothers and sisters persecuted for their faith in Jesus Christ. This year marks the 20th anniversary of the IDOP. Since it's inception, the IDOP has grown substantially and today is observed in more than 100 countries across the world. 
https://voiceofthepersecuted.wordpress.com
---


*AWAKE Conference  Nov 5  Villa Montalvo, Saratoga
Join us for a catalytic 1-day event for young professionals in Saratoga, California. Our hope is that God would awaken us to a deeper relationship with Jesus, a vision for our part to play in the world, and a passion for generosity.
Life is so busy and full. It can be hard to slow down. But on this one day we want to create space in a beautiful environment to be refreshed through time with God and one another.
Think of this like a 1-day vacation, but instead of sitting on a beach, you'll be at a beautiful California villa with a fun group of twenty and thirtysomethings.
We'll sit under great teaching, enjoy catered meals, premiere a short film, and end our day in an amazing outdoor ampitheater, worshiping our glorious God. Speakers Henry Kaestner, Chi-Hua Chien, Nancy Ortberg, and John Rinehart, founder of Gospel Patrons. $125 (or $100 group of 6+). Questions: 
josh@gospelpatrons.org,
http://www.gospelpatrons.org/events
---
LOVE SAN FRANCISCO 24/7 starts this weekend!  
Oct 29 to Nov 5
Love San Francisco is half 24/7 prayer/worship and half 24/7 evangelism/outreach. It's the convergence of the Great Commandments (to love God and love people) and the Great Commission (to preach the gospels and make disciples).
Love Your Cities partners with local churches & ministry teams long-term, to partner with, serve, and encourage them in their current outreaches and to expand and develop new ones to reach the lost, bring in, and aid in discipling the harvest.
Numerous churches and ministries partnering!  
www.LoveSF247.com
MANY LOCAL CHURCHES & MINISTRIES PARTNERING!
---
---
SF BUSINESSMEN FELLOWSHIP LUNCHEON  Thursdays  SF
Join prophet Peter Granados every Thursday from noon to 1pm at the Chinatown Restaurant, 744 Washington Street, San Francisco. Everyone Welcome! First time is FREE. petergranados@yahoo.com, www.ChinatownRestaurantsf.com
---

AGLOW INTERNATIONAL Bay Area Meetings 
Pot of Gold San Jose Aglow: 
Contact: Mary Lou 408-281-3036 ~ 3rd Monday, Speaker Meeting 10:00 AM at Denny's Restaurant, 1140 Hillsdale Ave, San Jose. Also 2nd Thursday, Prayer & Soaking. Please call for info.
San Rafael Community Lighthouse:
Contact: Ann 415-456-4782 ~ 2nd Saturday, 10 AM. At Victory Christian Center, at Harbor Center, 555 Francisco Blvd, Suite 15, San Rafael.
Salinas Aglow: 
Contact: Carol 831-756-7070 ~ 3rd Thursday, Speaker Meeting 6:30 PMBagel Corner818 Park Row Place, SalinasSan Jose Evening Spanish Couple Lighthouse:
Contact: Ricardo & Margarita 408-622-1318 ~ 4th Saturday, 6:00 PM. At Denny's Restaurant1140 Hillsdale Ave, San Jose.
Central San Jose Prayer:  
Contact: Julia 408-506-1466 ~ 2nd Saturday, 10:00 AM. Please call for info.
East San Jose Morning: 
Contact: Maria 408-401-5515Every Monday, 9:00 AM. Please call for info.
Gilroy Spanish Neighborhood Prayer & Outreach Lighthouse: 
Contact: Carmen 408-607-6810 ~ 1st & 3rd Saturday, 11:00 AM. Please call for info.
San Jose Workplace Diamonds Lighthouse:
Contact: Julia 408-506-1466 ~ Every Thursday, 12:00151 W. Mission Re-EntrySan Jose.
Mountain View Community:
Contact: Stephanie 650-930-6843 ~ 2nd Friday, 9:45 AM. First Presbyterian Church 1667 Miramonte Ave.Mountain View
Fremont Community:
---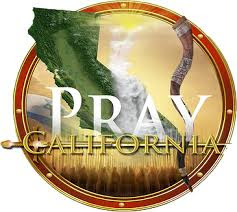 PRAY CALIFORNIA CONFERENCE CALL every Wednesday noon
Join Maryal Boumann on a POWERFUL prayer call for California every Wed at 12 noon. Dial 712-432-0075, then  access code 503 7802#. www.praycalifornia.org.
---
THE PERSECUTION WATCH 6PM every Tues, Thurs, Saturday.
Join Blaine Scogin in a nightly prayer call to pray for the Persecuted Believers around the world. At 6 pm (Pacific) each night dial 712 775-7035 then code 281207#.
---
AGLOW INTERNATIONAL weekly Monday prayer call 7pm (Pacific)
Join by dialing (712) 432-3066, then code 754058. 
"Blow the trumpet in the land…"  Jeremiah 4:5. Aglow International has an Islam Mandate and an Israel Mandate to pray. Join, AS ONE, as a global voice of prayer on this timely call.
---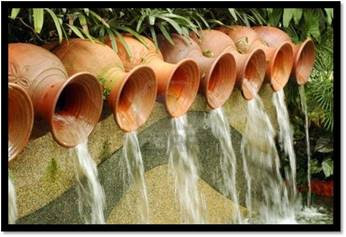 ARISE AND BUILD with Vicki Nohrden  5:15 am Thursdays
Every Thursday morning at 5:15 am join a PRAYER Conference Call with Vicki Nohrden. Dial 712-775-7031, access 379503809 #. Press *6 to mute until you are ready to pray.
---
INTERCESSORS FOR AMERICA 
Weekly prayer for the nation; monthly first Friday Fast; connect with a prayer group, receive e-alerts focusing on critical national issues for prayer. https://www.getamericapraying.com/gap
NDP Watchmen of the Night –  2 hour nightly prayer call in affiliation with National Day of Prayer. Dial 712 432-0075, then code 496-1322# 7 nights a week from 7 to 9 PM (Pacific Time). Also, join each morning Monday thru Friday at 7:11am to 8am. Join for all or part of the time.
PRAYER SURGE NOW!
– Prayer Conference Call every Sat at 4:30am to 8am with Dai Sup Han. Huge variety of guests each week. Call
1-712-432-0075
, access code 6149782#.
www.prayersurgenow.net
REPENTANCE AND RESTORATION PRAYER CALL: Daily nationwide prayer. Deep repentance and beautiful prayers are being lifted up in hopes of a release of the Spirit of God for a Great Awakening in America! Mon thru Sat from 8:30am to 9:00am. Sundays at 3:30pm to 4:00pm. Dial 712 432-1699Access Code 338083#. Contact: Judy Garlow Wade: Prayer Coordinator: uohip@cox.net http://randrprayer.org/
FIND or POST an Event with KFAX at http://www.kfax.com/CommunityEvents/
FIND or POST an Event with KLOVE at http://www.klove.com/events
FIND or POST an Event with Nor Cal Christian Events at http://www.norcalchristianevents.com/
FIND or POST an Event with Calling California Christians at http://www.callingcaliforniachristians.com/
FIND or POST a church job at http://www.churchjobfinder.com/

COVENANT EYES – Internet Accountability and Filtering tracks websites you visit on your computers, smart phones, and tablets, and sends them in an easy-to-read report to someone you trust. This makes it easy to talk about the temptations you face online. Toll free 1-877-479-1119or http://www.covenanteyes.com/
PRESERVE LIBERTY Monthly Prayer Call and Prayer Resources
Praying together and working together, city-by-city, to protect life, marriage, and America's Biblical foundation in a loving, Christlike way. Mark 916 716-1075, http://www.preserveliberty.com/
MONTEREY PENINSULA AGLOW LIGHTHOUSE Mondays  Pacific Grove
House of Prayer, Praise & Presence: Touching, Praying & Saying the Heart of God. An Interactive Experience of Presence-Driven Worship & Flowing in the Spiritual Gifts. Sponsored by Monterey Aglow Lighthouse & Cathryn True Varlet, Lighthouse President. Info: true_music111@comcast.net, (831) 394-4192.
*New Location!
NAOS House of Prayer Berkeley
Meets for prayer Monday thru Friday 7 to 9pm each evening. At 2239 Dwight Way, Berkeley. (Please knock if door is locked.) Info: http://naoshouseofprayer.org/, office@naoshop.org.   
SF HOP every Wed & Friday  San Francisco
San Francisco House of Prayer for All Nations meets Wednesdays at 9pm to 2am, and a Shabbat Watch of the Lord each Friday evening at 6 pm to Saturday 3 am. Located at the Sunset Bible Church on the corner of 1690 21st Avenue & Moraga. Join the San Francisco House of Prayer for All Nations this week (free parking at Chase Bank on 19th Ave & Noriega). http://sfhouseofprayer.org/
SF HOUSE OF PRAYER PRAY & GO every Tues night  San Francisco
Luke 4:18 Outreach Ministry. "Spiritually hungry people sit with us for a free 'Destiny Reading'. The Holy Spirit is always there to speak to hearts, heal, and deliver." Contact Michael for place & time. 415 374-4025. http://sfhouseofprayer.org/
SAN MATEO GLORY CLOUD HOUSE OF PRAYER  5pm Sundays
Call 650-483-3366 for directions.
SUNNYVALE HOUSE OF PRAYER 7:30 pm Tues Evenings
Call 408 732-5422 for directions.
EAST BAY PRAYER FURNACE 
Encounter God Service on Saturdays at 7pm. Prayer Room open 5 am to 10 am Monday thru Friday at Good News Fellowship, 6500 Dublin Blvd, Suite D, Dublin. http://www.eastbayprayerfurnace.org/#, 
https://www.facebook.com/EBPrayerFurnace
CONVERGENCE HOUSE OF PRAYER Fremont
Open for Prayer 50 hours a week! Encounter God. Come join us as we declare the worth of Jesus in Fremont! Also, hosting cHOP Healing Rooms! At 200 Hammond Ave, Fremont, 510 656-2335. www.ichop.org
KEY 22 INTERCESSION FOR SONOMA COUNTY & Nor CAL (formerly Sonoma County House of Prayer)
Now open every Wednesday 7 – 9pm and every Friday from 7pm to 10 pm and 3 to 7am Saturday, Santa Rosa. Check web for location. 707 344-7682. www.sonomacountyhop.com
---

BAY AREA HEALING ROOMS http://healingrooms.com/
~ San Francisco Healing Rooms
Meets 2nd and 4th Saturday from 9am to 12 noon at 1690 21st Ave, SF. www.healingrooms.com/us1832
~ cHOP Healing Rooms (Convergence House of Prayer) Fremont
Now open! on the 1st Sunday and 3rd Friday of each month from 4 to 6pm. No appt required. Register from 3:45pm to 5:30pm. At 200 Hammond Ave, Fremont. www.ichop.org. Questions: email healingrooms@icHOP.org
~ Silicon Valley Healing Rooms
at 557 Hyannis Dr, Sunnyvale. Meets 1st & 3rd Tuesdays each month at 11am to 1pm and also, 7 to 9pm. Email for info siliconvalleyhealingrooms@gmail.com  or call  650 930-6843. siliconvalleyhealingrooms.com.
~ Healing Room of Vallejo
Northbay Foursquare Church, 330 Avian Dr, Vallejo. First and Last Sat of each month at 10am to noon. 707 554-8282.
~ Milpitas Healing Rooms
3435 Birchwood Lane (Milpitas Christian School), San Jose, 1st and 3rd Sundays, 2pm to 4 pm, https://sites.google.com/site/milpitashealingrooms/
~ Redwood City Healing Rooms
At Tapestry Church, 1305 Middlefield Rd, Redwood City, on the 2nd and 4th Saturdays at 10am to noon. Call 650 861-2581.
~ Hayward Healing Rooms
At Community of Grace, 380 Elmhurst St, Hayward on the 1st Monday & 3rd Thursday at 7pm to 9pm. Call 510 783-8062 x 34. No appt necessary. Last person must be checked-in by 8:30pm. Come & meet the Great Physician! 380 Elmhurst St., Hayward. Pastors & Directors Theresa Evangelista & Debora Spotted Eagle, 510-783-8062 ext 34, nativeindianpeace@yahoo.com.
~ InSpirit Praise & Prayer Healing Room meets the 2nd Saturday monthly from 10am to 12 noon at 858 University Ave, Los Altos. (Sign in at the sanctuary of the Union Church.) A member of IAHR — The International Association of Healing Rooms. InSpiritPrayer@yahoo.com
~ Healing Rooms of Vacaville 707 344-7725.
~ Healing Rooms of Napa
The Healing Rooms of Napa Valley is reaching out to the community. Questions, or to schedule appt, or to submit prayer requests emailhealingrooms@napaarise.com, www.NapaArise.com.
~ Delta Healing Rooms
Of East Contra Costa County on Thurs nights, 6pm to 7:30pm, and First Saturday each month at 10am to noon. www.oaktreeministries.net
~ Healing Rooms of Modesto
Every 2nd and 4th Friday
---
"PEOPLE OF THE UNITED STATES OF AMERICA, AGREE WITH ME AS I AM BUILDING AN UNDERCURRENT OF VICTORY"
By Lana Vawser
. . . As I was spending time with the Lord recently the 'turbulence' happening in the spirit and in the natural over the USA right now, and the burden I have been carrying in my heart because of all I am seeing going on in the nation and the Church came flooding back to me again.
As I lay there in worship I had such an incredible sense of the invitation from the heart of God to be AGREEING with what He is declaring. The atmosphere all around me felt electric and pregnant with the invitation to partner with the Lord in declaring VICTORY over the USA right now more than ever. The sense surrounded me of the incredible war in the spirit that is taking place and the enemy is not happy and doing all he can to pervert, to steal, kill and destroy all in an attempt to foil what God is declaring and inviting His people to declare right now and see manifested… VICTORY!
I have spent a while sitting on what I heard and saw in that time with the Lord and have been in deep intercession for the beautiful nation of America and for God's people in the nation.
As I was praying about what I heard and saw in that time, days later, I heard the words "People of the United States of America, AGREE with Me as I am now "BUILDING AN UNDERCURRENT OF VICTORY!!!!"
The word "UNDERCURRENT" was highlighted so clearly to me, so I looked at the dictionary definition of the word:
UNDERCURRENT: 1. an underlying feeling or influence, especially one that is contrary to the prevailing atmosphere and is not expressed openly. 2. a current of water below the surface and moving in a different direction from any surface current. (Google.com)
Do not be swayed, deceived or distracted by "current atmosphere's" or the atmospheres that feel like they are "prevailing", God is doing things BELOW THE SURFACE. God is setting things up, He is moving, He is orchestrating things and YOUR PRAYERS AND AGREEMENT with what He is doing is POWERFUL.
His Spirit is like that current of water below the surface that is bubbling and building momentum to move things in a different direction to what is being SEEN on the SURFACE. A definite demonstration of Zechariah 4:6: "So he said to me, "This is the word of the LORD to Zerubbabel: 'Not by might nor by power, but by my Spirit,' says the LORD Almighty."
This is why it is IMPERATIVE that the people of God have eyes to see and ears to hear in this season, because what is happening in the 'natural' is NOT THE TRUE REALITY. What HE is doing in the Spirit, what HE is doing below the surface, what HE is saying, THAT is REALITY and the people of God MUST be positioned as an ECHO of what He is SAYING over the UNITED STATES right now! A partnering with what the Spirit is saying is crucial. I believe He is decreeing LIFE and VICTORY! He wants LIFE and He wants VICTORY! He wants FREEDOM! He wants HEALING and RESTORATION for the United States of America! He wants to USHER IN a move of His Spirit in this nation that has NEVER been seen before. He wants LIFE and not death!
As I sat taking all this to the Lord, I saw HOSTS AND HOSTS of ANGELS being sent into the United States but they were going in "stealth". They were "under the radar" and the Lord positioning them in STRATEGIC TRIGGER POINTS across the nation. They were sent with a specific purpose and assignment and they had landed and were stationed and waiting for the Lord's command to "ACTIVATE" that which He was planning and releasing. The sense surrounded me that the Lord has VICTORY UP HIS SLEEVE! Just when the enemy thought he had won, and brought chaos, death and destruction to the nation, God will release the COMMAND to these angelic hosts and STRATEGIC TRIGGER POINTS will be activated and the DOMINO EFFECT OF VICTORY will take place. What He has been planning and strategising behind the scenes will MANIFEST.
Where man is attempting to pull the "current" in a certain direction, the Lord is building and increasing the DIVINE UNDERCURRENT to RELEASE VICTORY, but we MUST intercede and AGREE with HIS VICTORY!
http://sfhouseofprayer.org/wp-content/uploads/2013/04/san-francisco-house-of-prayer-for-all-nations-logo.png
0
0
V
http://sfhouseofprayer.org/wp-content/uploads/2013/04/san-francisco-house-of-prayer-for-all-nations-logo.png
V
2016-11-04 10:40:52
2018-03-21 01:15:10
Oct 2016 SF Events