Last chance to see REVIVE US tonight!  An encore showing at a theater near you.
Kirk Cameron's Revive Us "We are calling for a NATIONAL FAMILY MEETING. It's called Revive Us." On October 24th in cities across America. With Francis Chan, Dr Ben Carson, Eric Metaxas, Miss Clara from War Room, Jennifer Rothschild, Passion, Vertical Church Band and more. My FAith Votes:  http://www.reviveus2016.com/ 
See trailer https://www.youtube.com/watch?v=Z1wuCs845rI
---
BEYOND HUMAN TRAFFICKING this Wed  Oct 26  Palo Alto
Freedom is a birthright, not a privilege. Join us for a challenging yet encouraging presentation on the issue of modern day slavery, presented by Joe Schmidt the CEO of 
WalkFree.org
, the world's largest abolition movement with over 8 million members. During this presentation, and in small breakout discussion groups which follow it, you will learn:
The scope of the problem
Different forms of contemporary slavery
Surprising ways it affects your everyday life
Simple steps you can take to end it
---
We are expecting a healing explosion in the Bay Area! Come get trained…

Don't miss this conference ~ starts this Friday! 
HEALING ROOMS NOR CAL CONFERENCE with CAL PIERCE  Oct 28-29  Treasure Island
International Directors of the Healing Rooms, Cal and Michelle Pierce (from Spokane) come to San Francisco! SF Healing Rooms directors, Alex & Margaret DeMartini and C3 Church host conference on Treasure Island. Full conference with meals ONLY $52 (or no meals $20). Also, only $62 for couples (with meals); or $30 for couples (no meals). Starts Friday 7:30pm and Saturday 9am to 8pm. Space and meals limited, so register early. Healing Room leaders and Pastors (only) meet with Cal Pierce Saturday 1:30pm-2:30pm. Prayer for the sick 2:30pm to 4pm. Saturday evening session, 5pm to 8pm. www.healingrooms.com. More info and register: https://www.eventbrite.com/e/healing-rooms-conference-2016-tickets-26731292014
---
VENTURE HOSTS ANALOG this Thurs  Oct 27  Los Gatos
Analog is a monthly Christians in tech meetup hosted by Venture Christian Church. Meetings include executives, developers, designers, marketers, & product managers all using their gifts for the Kingdom. Join us at the Coffeehouse at Venture Christian Church at 6:30pm – 8:30pm, 46845 Hicks Rd, Los Gatos.  http://venture.cc/
---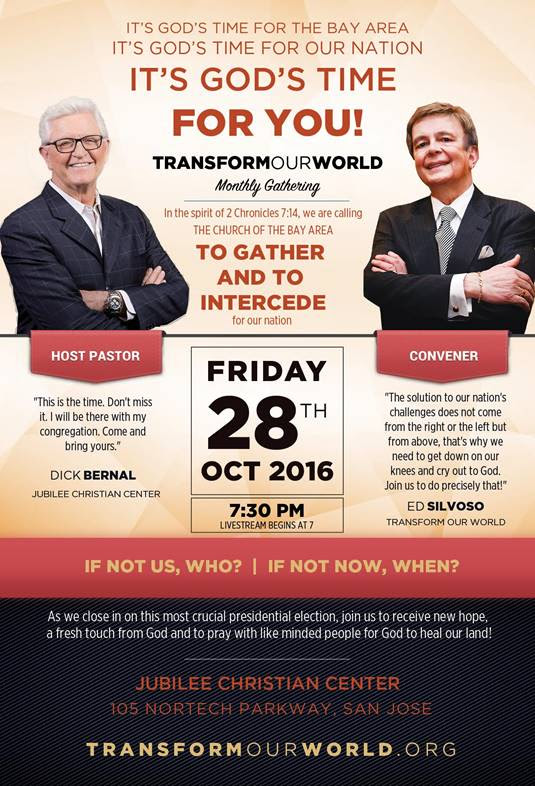 IT'S GOD'S TIME FOR THE BAY AREA & FOR THE NATION! this Friday!  Oct 28  Jubilee San Jose
Transform Our World with Ed Silvoso and Dick Bernal hosts a "Time to Gather and to Intercede!" Livestream available. Doors open 7pm at 105 Nortech Parkway, SJ.
---

Dr Michael Brown  Nov 12-13  Hayward
Coming to Hayward! Dr. Michael Brown will be at Church of the Cross November 12-13. Dr. Brown, an accomplished theologian & experienced revivalist, will hold two teaching sessions on Saturday & two revival services on Sunday. All sessions are FREE and open to anyone. This event is co-sponsored by Church of the Cross and Victory Outreach Heart. Info 510-581-5522.
---

Let your pastor know: KFAX PASTORS APPRECIATION LUNCH with Dennis RaineyFOR PASTORS, THEIR SPOUSE & MINISTRY LEADERS Only  Tues Nov 8   Fremont Marriott
There is no charge to attend event, however registration is required. At 11am to 1:30pm.  https://www.eventbrite.com/e/kfaxs-pastors-appreciation-luncheon-with-dennis-rainey-tickets-27909189136?aff=eswgnotif&utm_source=eb_email&utm_medium=email&utm_campaign=email&utm_term=checkoutbtn&utm_content=EBnotification&ref=eswgnotif#tickets
---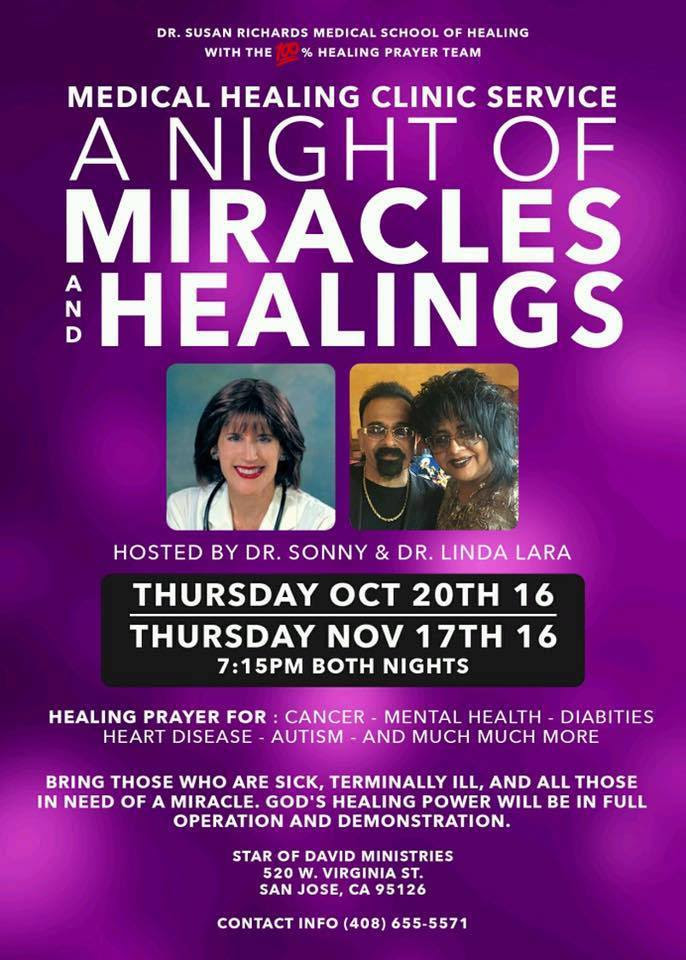 NIGHT OF MIRACLES & HEALINGS  Nov 17  San Jose
Join us at our night of healings and miracles at Star of David Church, this Thursday, Oct 20th. Experience God's supernatural healing miracles and see your life transformed! https://www.facebook.com/susan.richards.501
---
DR SUSAN RICHARDS Venues in October!
Dr. Susan Richard's current project is to develop a Medical and Health Ministry Training Program of Supernatural Healing as well as Healing Centers/Community Centers that are inspired by the love, joy and healing presence of Jesus. Everywhere she teaches and releases words of healing, we see miracles abound! Bring family and friends who need supernatural miracle healings from God.
Tuesday, October 25th,
6:30-9:30pm
5883 Eden Park Pl, San Jose
Friday, October 28th, 7:00pm-9:30pm
Jubilee Christian Center Healing Event
105 Nortech Pkwy, San Jose
Saturday, October 29th, 1:00pm-4:00pm
MSH Healing Conference Alameda Christian Reformed Church
2914 Encinal Avenue, Alameda
Sunday, October 30th, 7pm-9:30pm
Love from Heaven Conference
Cubberly Community Center H-1 Lecture Room
4000 MiddleField Rd. Palo Alto
---
THINK TANK (TBC)  
Thurs November 10
 San Jose
ThinkTANK is a TBC sponsored one-day (
8:30am to 4pm
) interactive conference designed to connect, inspire, & enrich the Church Planting ecosystem for the entire SF Bay Area. ThinkTANK has assembled a dynamic lineup that will touch on all aspects of planting, and topics. ThinkTANK is BAY AREA specific, with almost all of its presenters coming from this area to share innovative insights and best practices that EVERY Bay Area planter needs to hear.  ThinkTANK also offers relational connectedness through Q&A sessions, panel discussions, & optional follow-up tracks for planters to go deeper. ThinkTANK is strategically placed in a position to serve and nurture the growing organic church planting eco-system for ALL planters, ALL planting organizations, ALL denominations, ALL sending churches (within Christendom). $40 (spouse $20). Contact
jon@tbc.city
. Register:
https://www.eventbrite.com/e/church-planting-thinktank-tickets-28084082246?aff=erelpanelorg
---

40 DAYS FOR LIFE continues ~ Find a campaign in your area: https://40daysforlife.com/
LOVE SAN FRANCISCO 24/7  
Oct 29 to Nov 5
Love San Francisco is half 24/7 prayer/worship and half 24/7 evangelism/outreach. It's the convergence of the Great Commandments (to love God and love people) and the Great Commission (to preach the gospels and make disciples).
Love Your Cities partners with local churches & ministry teams long-term, to partner with, serve, and encourage them in their current outreaches and to expand and develop new ones to reach the lost, bring in, and aid in discipling the harvest.
Numerous churches and ministries partnering!  
www.LoveSF247.com
MANY LOCAL CHURCHES & MINISTRIES PARTNERING!
---

ROOTED Below to Bear Fruit Above (Isa 37:31)  Sat Nov 12   YWAM SF
Dessert Fundraiser, Live Music, Special Guest: Dr Ray Bakke, Theologian and Urban Missiologist. Since 1979 Dr. Bakke has personally led or served as a major resource leader for urban ministry consultations in more than 200 large cities on six continents.  He is author of THE URBAN CHRISTIAN (InterVarsity Press, 1987), a groundbreaking book on urban ministry which has been translated into eight foreign languages. At 6pm at 357 Ellis Street, SF. http://www.ywamsanfrancisco.org/
---
http://www.medschoolhealing.com/
---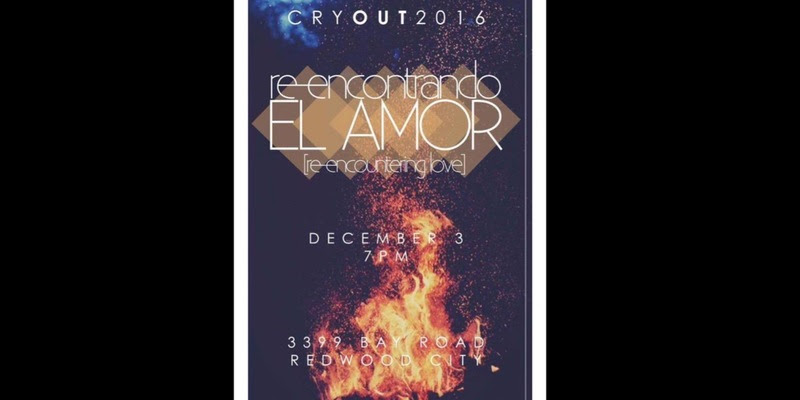 CRY OUT 2016  Dec 3  Redwood City
Cry Out was birthed in 2009, in a small local church in Redwood City to become a regular event. To our surprise, God – in his plan – shifted it to become a moment that marks hundreds of young people hearts. A night where we cry out for our churches, families and young generation to have divine encounter.Saturday, Dec 3, at 7pm to 11pm at 3399 Bay Road, Redwood City. https://www.eventbrite.com/e/cry-out-2016-tickets-28594358496?aff=erellivmlt
---
ONETHING 2016 Conference
Dec 28-31
 Kansas City Convention Center
Evangelist Todd White, Loren Cunningham (YWAM Founder), Bill Johnson & Bethel Music (Redding)
 join 
Mike Bickle
 and others for the Kansas City OneThing Conference this year! Register: 
http://www.ihopkc.org/onething
Watch live online FREE!
---

TBC Large Group Gathering  Sat, Jan 28 SF
Save the date for Transforming the Bay in Christ at the First Baptist Church of San Francisco, 8:30am to 12:30pm.
President and Chief Executive Officer Santiago "Jimmy" Mellado has a deep love and passion for the beauty and potential of local churches fulfilling their Jesus-given mandate to redeem and restore this world for His name's sake. Born in El Salvador and raised in seven different countries, Jimmy has experienced firsthand the powerful impact thriving local churches can have on their communities, especially in under-resourced environments. Compassion's church-based approach to delivering a holistic child development program resonates with Jimmy at a deep level. https://www.eventbrite.com/e/tbc-large-group-gathering-tickets-28378619214?aff=erelpanelorg
---
PRAYER SURGE NOW!  
Invitation to
Saturday
Morning Prayer Sessions
At
4:30 am to 8 am
(Pacific Time). Call
712-432-0075
, then access code 6149782#  (*6 to mute)
---
NAOS House of Prayer Berkeley
Meets for prayer Monday thru Friday 7 to 9pm each evening, and as of June 1st, meets at 2239 Dwight Way, Berkeley. (Please knock if door is locked.) Info:  http://naoshouseofprayer.org/, office@naoshop.org.
---
AGLOW ~ NATIONAL CONFERENCE Comes to California Again!  Nov 10-13  San Diego
At the Town and Country Resort and Convention Center, San Diego. Register at: https://www.aglow.org
---
SF BUSINESSMEN FELLOWSHIP LUNCHEON  Thursdays  SF
Join prophet Peter Granados every Thursday from noon to 1pm at the Chinatown Restaurant, 744 Washington Street, San Francisco. Everyone Welcome! First time is FREE. petergranados@yahoo.com, www.ChinatownRestaurantsf.com
---

AGLOW INTERNATIONAL Bay Area Meetings 
Pot of Gold San Jose Aglow: 
Contact: Mary Lou 408-281-3036 ~ 3rd Monday, Speaker Meeting 10:00 AM at Denny's Restaurant, 1140 Hillsdale Ave, San Jose. Also 2nd Thursday, Prayer & Soaking. Please call for info.
San Rafael Community Lighthouse:
Contact: Ann 415-456-4782 ~ 2nd Saturday, 10 AM. At Victory Christian Center, at Harbor Center, 555 Francisco Blvd, Suite 15, San Rafael.
Salinas Aglow: 
Contact: Carol 831-756-7070 ~ 3rd Thursday, Speaker Meeting 6:30 PMBagel Corner818 Park Row Place, SalinasSan Jose Evening Spanish Couple Lighthouse:
Contact: Ricardo & Margarita 408-622-1318 ~ 4th Saturday, 6:00 PM. At Denny's Restaurant1140 Hillsdale Ave, San Jose.
Central San Jose Prayer:  
Contact: Julia 408-506-1466 ~ 2nd Saturday, 10:00 AM. Please call for info.
East San Jose Morning: 
Contact: Maria 408-401-5515Every Monday, 9:00 AM. Please call for info.
Gilroy Spanish Neighborhood Prayer & Outreach Lighthouse: 
Contact: Carmen 408-607-6810 ~ 1st & 3rd Saturday, 11:00 AM. Please call for info.
San Jose Workplace Diamonds Lighthouse:
Contact: Julia 408-506-1466 ~ Every Thursday, 12:00151 W. Mission Re-EntrySan Jose.
Mountain View Community:
Contact: Stephanie 650-930-6843 ~ 2nd Friday, 9:45 AM. First Presbyterian Church 1667 Miramonte Ave.Mountain View
Fremont Community:
Contact: Lorraine
510-797-8250
~ 2nd Tuesday,
10:00 AM
. Hope Lighthouse36883 Niles Blvd. Fremont.
San Jose Spanish Aglow:
Contact: Rachel
408-370-8425
. Please call for info.
Monterey Aglow Lighthouse:
Contact: Cathryn
831-394-4192
~ Sundays,
1:00 PM
. Worship/, Soaking & Intercession
Santa Cruz Prison/Jail Ministry:
Contact: Lynn 479-1881. Please call for info.
San Jose Elmood Jail Ministry and Prayer Meeting for Families of the Incarcerated:
Contact: Rachel
408-370-8425
~ 4th
Thursday
,
7:00 PM
. Cathedral of Faith Church, San Jose.
---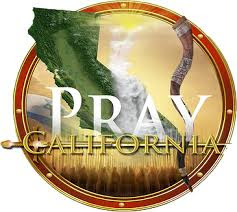 PRAY CALIFORNIA CONFERENCE CALL every Wednesday noon
Join Maryal Boumann on a POWERFUL prayer call for California every Wed at 12 noon. Dial 712-432-0075, then  access code 503 7802#. www.praycalifornia.org.
---
THE PERSECUTION WATCH 6PM every Tues, Thurs, Saturday.
Join Blaine Scogin in a nightly prayer call to pray for the Persecuted Believers around the world. At 6 pm (Pacific) each night dial 712 775-7035 then code 281207#.
---
AGLOW INTERNATIONAL weekly Monday prayer call 7pm (Pacific)
Join by dialing (712) 432-3066, then code 754058. 
"Blow the trumpet in the land…"  Jeremiah 4:5. Aglow International has an Islam Mandate and an Israel Mandate to pray. Join, AS ONE, as a global voice of prayer on this timely call.
---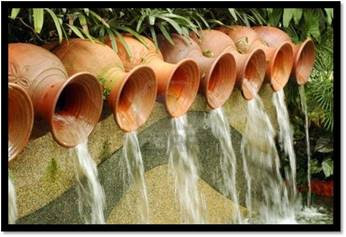 ARISE AND BUILD with Vicki Nohrden  5:15 am Thursdays
Every Thursday morning at 5:15 am join a PRAYER Conference Call with Vicki Nohrden. Dial 712-775-7031, access 379503809 #. Press *6 to mute until you are ready to pray.
---
INTERCESSORS FOR AMERICA 
Weekly prayer for the nation; monthly first Friday Fast; connect with a prayer group, receive e-alerts focusing on critical national issues for prayer. https://www.getamericapraying.com/gap
NDP Watchmen of the Night –  2 hour nightly prayer call in affiliation with National Day of Prayer. Dial 712 432-0075, then code 496-1322# 7 nights a week from 7 to 9 PM (Pacific Time). Also, join each morning Monday thru Friday at 7:11am to 8am. Join for all or part of the time.
PRAYER SURGE NOW!
– Prayer Conference Call every Sat at
4:30am to 8am
with Dai Sup Han. Huge variety of guests each week. Call
1-712-432-0075
, access code 6149782#.
www.prayersurgenow.net
REPENTANCE AND RESTORATION PRAYER CALL: Daily nationwide prayer. Deep repentance and beautiful prayers are being lifted up in hopes of a release of the Spirit of God for a Great Awakening in America! Mon thru Sat from 8:30am to 9:00am. Sundays at 3:30pm to 4:00pm. Dial 712 432-1699Access Code 338083#. Contact: Judy Garlow Wade: Prayer Coordinator: uohip@cox.net http://randrprayer.org/
FIND or POST an Event with KFAX at http://www.kfax.com/CommunityEvents/
FIND or POST an Event with KLOVE at http://www.klove.com/events
FIND or POST an Event with Nor Cal Christian Events at http://www.norcalchristianevents.com/
FIND or POST an Event with Calling California Christians at http://www.callingcaliforniachristians.com/
FIND or POST a church job at http://www.churchjobfinder.com/

COVENANT EYES – Internet Accountability and Filtering tracks websites you visit on your computers, smart phones, and tablets, and sends them in an easy-to-read report to someone you trust. This makes it easy to talk about the temptations you face online. Toll free 1-877-479-1119or http://www.covenanteyes.com/
PRESERVE LIBERTY Monthly Prayer Call and Prayer Resources
Praying together and working together, city-by-city, to protect life, marriage, and America's Biblical foundation in a loving, Christlike way. Mark 916 716-1075, http://www.preserveliberty.com/
MONTEREY PENINSULA AGLOW LIGHTHOUSE Mondays  Pacific Grove
House of Prayer, Praise & Presence: Touching, Praying & Saying the Heart of God. An Interactive Experience of Presence-Driven Worship & Flowing in the Spiritual Gifts. Sponsored by Monterey Aglow Lighthouse & Cathryn True Varlet, Lighthouse President. Info: true_music111@comcast.net, (831) 394-4192.
*New Location!
NAOS House of Prayer Berkeley
Meets for prayer Monday thru Friday 7 to 9pm each evening. At 2239 Dwight Way, Berkeley. (Please knock if door is locked.) Info: http://naoshouseofprayer.org/, office@naoshop.org.   
SF HOP every Wed & Friday  San Francisco
San Francisco House of Prayer for All Nations meets Wednesdays at 9pm to 2am, and a Shabbat Watch of the Lord each Friday evening at 6 pm to Saturday 3 am. Located at the Sunset Bible Church on the corner of 1690 21st Avenue & Moraga. Join the San Francisco House of Prayer for All Nations this week (free parking at Chase Bank on 19th Ave & Noriega). http://sfhouseofprayer.org/
SF HOUSE OF PRAYER PRAY & GO every Tues night  San Francisco
Luke 4:18 Outreach Ministry. "Spiritually hungry people sit with us for a free 'Destiny Reading'. The Holy Spirit is always there to speak to hearts, heal, and deliver." Contact Michael for place & time. 415 374-4025. http://sfhouseofprayer.org/
SAN MATEO GLORY CLOUD HOUSE OF PRAYER  5pm Sundays
Call 650-483-3366 for directions.
SUNNYVALE HOUSE OF PRAYER 7:30 pm Tues Evenings
Call 408 732-5422 for directions.
EAST BAY PRAYER FURNACE 
Encounter God Service on Saturdays at 7pm. Prayer Room open 5 am to 10 am Monday thru Friday at Good News Fellowship, 6500 Dublin Blvd, Suite D, Dublin. http://www.eastbayprayerfurnace.org/#, 
https://www.facebook.com/EBPrayerFurnace
CONVERGENCE HOUSE OF PRAYER Fremont
Open for Prayer 50 hours a week! Encounter God. Come join us as we declare the worth of Jesus in Fremont! Also, hosting cHOP Healing Rooms! At 200 Hammond Ave, Fremont, 510 656-2335. www.ichop.org
KEY 22 INTERCESSION FOR SONOMA COUNTY & Nor CAL (formerly Sonoma County House of Prayer)
Now open every Wednesday 7 – 9pm and every Friday from 7pm to 10 pm and 3 to 7am Saturday, Santa Rosa. Check web for location. 707 344-7682. www.sonomacountyhop.com
---

BAY AREA HEALING ROOMS http://healingrooms.com/
~ San Francisco Healing Rooms
Meets 2nd and 4th Saturday from 9am to 12 noon at 1690 21st Ave, SF. www.healingrooms.com/us1832
~ cHOP Healing Rooms (Convergence House of Prayer) Fremont
Now open! on the 1st Sunday and 3rd Friday of each month from 4 to 6pm. No appt required. Register from 3:45pm to 5:30pm. At 200 Hammond Ave, Fremont. www.ichop.org. Questions: email healingrooms@icHOP.org
~ Silicon Valley Healing Rooms
at 557 Hyannis Dr, Sunnyvale. Meets 1st & 3rd Tuesdays each month at 11am to 1pm and also, 7 to 9pm. Email for info siliconvalleyhealingrooms@gmail.com  or call  650 930-6843. siliconvalleyhealingrooms.com.
~ Healing Room of Vallejo
Northbay Foursquare Church, 330 Avian Dr, Vallejo. First and Last Sat of each month at 10am to noon. 707 554-8282.
~ Milpitas Healing Rooms
3435 Birchwood Lane (Milpitas Christian School), San Jose, 1st and 3rd Sundays, 2pm to 4 pm, https://sites.google.com/site/milpitashealingrooms/
~ Redwood City Healing Rooms
At Tapestry Church, 1305 Middlefield Rd, Redwood City, on the 2nd and 4th Saturdays at 10am to noon. Call 650 861-2581.
~ Hayward Healing Rooms
At Community of Grace, 380 Elmhurst St, Hayward on the 1st Monday & 3rd Thursday at 7pm to 9pm. Call 510 783-8062 x 34. No appt necessary. Last person must be checked-in by 8:30pm. Come & meet the Great Physician! 380 Elmhurst St., Hayward. Pastors & Directors Theresa Evangelista & Debora Spotted Eagle, 510-783-8062 ext 34, nativeindianpeace@yahoo.com.
~ InSpirit Praise & Prayer Healing Room meets the 2nd Saturday monthly from 10am to 12 noon at 858 University Ave, Los Altos. (Sign in at the sanctuary of the Union Church.) A member of IAHR — The International Association of Healing Rooms. InSpiritPrayer@yahoo.com
~ Healing Rooms of Vacaville 707 344-7725.
~ Healing Rooms of Napa
The Healing Rooms of Napa Valley is reaching out to the community. Questions, or to schedule appt, or to submit prayer requests emailhealingrooms@napaarise.com, www.NapaArise.com.
~ Delta Healing Rooms
Of East Contra Costa County on Thurs nights, 6pm to 7:30pm, and First Saturday each month at 10am to noon. www.oaktreeministries.net
~ Healing Rooms of Modesto
Every 2nd and 4th Friday
---
"Jesus, I plead your blood over my sins and the sins of my nation. God, end abortion and send revival to America."
http://sfhouseofprayer.org/wp-content/uploads/2013/04/san-francisco-house-of-prayer-for-all-nations-logo.png
0
0
V
http://sfhouseofprayer.org/wp-content/uploads/2013/04/san-francisco-house-of-prayer-for-all-nations-logo.png
V
2016-10-26 08:46:34
2016-12-15 01:30:32
Oct 2016 SF Events