*Billy Graham's Prayer for the New Year (at bottom of page)
---
*
Free Live Streaming of OneThing now! (My kids just drove out to Kansas City for this!)
ONETHING CONFERENCE with 20,000 young adults & URBANA with 16,000 young adults happening now in Missouri!
Francis Chan speaks today, Wednesday morning. Reinhard Bonnke will speak New Years Eve between 6:30pm & 9:30pm (Pacific Time). Also watch the powerfulOneThing REPLAYS – Allen Hood was especially anointed setting men & their sons free from pornography yesterday, at 7pm Tuesday. http://watch.ihopkc.org/ 
(And Urbana is going on simultaneously in St Louis, on the opposite side of Missouri. Urbana is a huge missions conference with 300,000 participants since 1946, https://urbana.org).

Live Stream Free NOW! AWESOME! Onething KC 2015! Dec 28-31  Kansas City
http://www.ihopkc.org/
---
*INVITATION TO BAY AREA NURSES (& DOCTORS) this Saturday!  Jan 2  Palo Alto
Dr Susan Richards, MD, invites RN's and other believers who serve in the medical care profession for a potluck dinner this Saturday near Standford University at 6pm. Dr Susan Richards, a former Stanford School of Medicine faculty member, is the founder/director of the Medical School of Healing believing that God wants to use each of us for miraculous, supernatural healing. Call for directions, 408-717-0614. For more info, email: pattsysh10@gmail.com.
---
DOUG ADDISON New Year's Eve  Dec 31  Blazing Fire – Dublin
Bring in the New Year with Doug Addison. Doug is a prophetic dream interpreter, speaker, writer, Life Coach, and stand-up comedian. Doug travels the world bringing his unique fun style that helps people to find true happiness, discover their destiny and be accepted in God. Doug is a powerful yet down-to-earth spiritual leader with a message of love, hope and having fun! On New Year's Eve, Thursday, 12/31 from 9pm to 12:30am at Blazing Fire Church, at 7500 Inspiration Dr, Dublin (Valley Christian Center). http://dougaddison.com/ More info at http://blazingfire.org
---

*CONVERGENCE HOUSE OF PRAYER  12/31  Fremont
Special night prayer room New Years celebration from 6pm to midnight. At 200 Hammond Ave, Fremont. http://convergencehop.org/
---

NEW YEAR'S CONCERT/PARTY  Dec 31 SF
Come Party This New Year's Eve! Performances by DJ LANZA, Rocki Starr, J-Red, Liz Lanza and More. At 1970 Ocean Avenue San Francisco. Doors open at 8 pm. Contact us at LuminationUSA@gmail.com for special group rates & info. Tickets online: LuminationNewYearsParty2016.eventbrite.com
---
*SHIFTING MINDSETS CONFERENCE  Jan 9th  Salinas
Steve will be doing a two day Shifting Mindsets conference that will activate you in breaking off negativity and worry from your life. Steve is a pastor for Bethel Redding's Global Legacy. Steve and his wife Wendy direct Igniting Hope Ministries, founded to equip individuals with hope, joy, and divine strategies for personal breakthrough and increased influence. Their message comes from personal victories over hopelessness, perfectionism, and discouragement that were a result of believing lies instead of truth. Held on Friday, January 8th, at 7:00pm and Saturday, January 9th, from 3-4:30pm. The cost of the 2 day conference is $65.00. Saturdayevening is Free. Register: https://treeoflife.webconnex.com/Backlund
The two day conference will be followed by a free open to the public
Saturday
Encounter Night on
January 9th at 6:00pm
. Held at Salinas Vineyard at 1122 E Alisal St, Salinas. Contact:
www.tolcenters.org
 or 
tolkeith@gmail.com
---
The Medical School of Healing presents… enrollment for Spring classes & several free conferences/events. 

*HEALING AND TRANSFORMATION CONFERENCE  Feb 13  Redwood City
With Steve Backlund (Bethel Church, Redding), Brent Lokker (Blazing Fire), David Wylie and Dr. Susan Richards (founder of the Medical School of Healing). People are coming from all over to come to the Healing and Transformation Conference which will activate the healing and transforming power of God in bodies, hearts and minds. This conference will have a ministry team of medical professionals from Bethel Church and other experienced healing ministers to pray for those who need healing.Saturday February 13th 1:00pm-5:30pm. At 1662 Broadway St, Redwood City. Sponsored by the Medical School of Healing, www.medschoolhealing.com, Facebook:https://www.facebook.com/medicalschooloflhealing/. More info: info@medschoolhealing.com.  Free conference, unless taken for credit, $40.
---
*MIRACLE HEALING CLINIC  Thur Feb 4  Redwood City
Come and receive prayer for healing and transformation from Susan Richards M.D. and our ministry team of medical professionals and other experienced healing ministers. At 1662 Broadway St. Redwood City. Next Thursday, February 4th 2016 7:00pm – 9:00pm. More info: info@medschoolhealing.com. Sponsored by Medical School of Healing, www.medschoolhealing.com, Facebook: https://www.facebook.com/medicalschooloflhealing/. Free event. A love offering will be appreciated.
---

*POWER TO HEAL CONFERENCE  March 5  Location TBA
Healing Conference with Ian Andrews, Chris Gore and Dr. Susan Richards, MD on 3/5/16 from 1pm to 5:30pm. More info: info@medschoolhealing.com,www.medschoolhealing.com, Facebook: https://www.facebook.com/medicalschooloflhealing/. Sponsored by Medical School of Healing. Free conference, unless taken for credit, $40.
---
12th ANNUAL WALK FOR LIFE – West Coast  Saturday, Jan 23  San Francisco
Info at: http://www.walkforlifewc.com/event-info/event-schedule/
---

BLAZING FIRE'S WORLD CHANGERS EQUIPPING SCHOOL  Tuesday nights: 6:45pm to 9pm at Parkway Fellowship in Dublin
Course classes:
1.
Jan 5-26
Going Deep with the Lord in Worship
: We'll learn more about why it is we worship, what it means to live a lifestyle of worship, how to bring forth the song in our heart and more.
2.  
Feb 2-Mar 8
Healing the Heart & Freedom from Addictions
: This class on Inner Healing and Addictions will help you better understand your own heart and find freedom from root problems that keep you from experiencing the fullness of God's love.
3.
Mar 15-April 19
Prophecy & Destiny
: In this class on Prophecy you will be learning about New Testament prophetic gifting and calling. In "Walking Out Your Destiny" you'll learn how to go from simply receiving a prophetic word – to taking concrete steps to prepare for it to be accomplished.
4.
Apr 26-May 24
Engaging the Lost, our Culture and our World
: Jesus never loved from a distance. Discover how you can connect with the world around you through honor, creativity and by simply being YOU!
Cost: $25 per course payable on the first night of each course.  Registration also provides access to material and recordings on the class website. More info:http://blazingfire.org/world-
changers.
---
Let your pastor know & also leaders of every sector of society…
TRANSFORMING THE BAY WITH CHRIST January 9  San Francisco
TBC Large Gathering. Join Pat Gelsinger (CEO of VMware, 4th largest software company), Nancy Ortberg, Jon Talbert and other pastors, marketplace leaders, and ministries with strategies to Multiply, Unify & Amplify. Guest speaker Mark Labberton, President of Fuller Seminary. The mission is to to catalyze a holistic gospel movement in the Bay Area that results in spiritual & societal transformation. Transformation is the result of an increasing number of people loving God with all their heart, soul, mind, and strength, and loving their neighbor as themselves. The vision is to see every person in the Bay Area thrive & flourish–in body, soul, and spirit by living life as God intended it. Guiding verse: "Seek the peace and prosperity of the city to which I have carried you into exile. Pray to the Lord for it, because if it prospers, you too will prosper." Jeremiah 29:7. Meets from 8 am to 11:30 am at Valley Christian Center, 7500 Inspiration Drive, Dublin. Register free: http://tbc.city/.
---
*CHARIS BIBLE COLLEGE Jan 9  San Jose
Guest speaker Wendell Parr on Saturday, 1/9 at 12 noon to 3pm at 25 North 14th St, Suite 450. http://www.charisbiblecollege.org/, http://www.cbcsanjoseca.org/.
---
*NATIONAL WEEKEND OF PRAYER To End Slavery and Trafficking  Jan 8-10
More info: http://www.nwoprayer.org/
---


CRISIS RESPONSE TRAINING For Youth  Jan 15-18  Fullerton
You're never too young to get prepared to reach the harvest in crisis. We believe God is putting the fire of His love in the hearts of young people and calling them to his service. CRI exists to provide a model and framework for effective ministry in the midst of state, national and international disaster. It's time to release our youth into the harvest of crisis. Join us in Fullerton, CA January 15 – 18 for a time of preparation, encounter and equipping of young people ages 16-25. http://criout.com/training/youth-crt/
---
THIRST HOLY SPIRIT SUMMIT  Jan 22-23  Morgan Hill
I Thirst for You: For Your Glory! "Jesus wants to increase His glory in our lives by increasing His presence in everything we do and say. Heaven meets earth when we gather together in unity, welcome His presence, and respond to Him with open hearts. Let us come expecting to be changed by His Holy Spirit so that His glory is manifested in greater measures in our lives in 2016!" Early bird til Jan 9, $25 (Ministers and their spouses free). At Crossroads Christian Center, 145 Wright Ave, Morgan Hill. More info: http://www.crossroadschristiancenter.org/
---
SCHOOL OF EMERGING PROPHETS  Starts 1/26  Fremont
​School of Emerging Prophets is an activation based school where you can advance your calling as a Prophet, master your skills, and be in community with other like minder Prophets. School Campus is located at Voice of Triumph Church Resource Center, 43138 Christy St, Ste 114, Fremont. Contact/Instructor: Keith Ferrante,(707)448-3124  www.emergingprophets.com 
---
Support the Persecuted Church. Watch Sheep Among Wolves…


New Release on Vimeo: Sheep Among Wolves: Chronicles of the Persecuted Church (Volume One) SPECIAL EDITION. #SheepAmongWolves is live. Watch at:  https://vimeo.com/ondemand/sheepamongwolves
---

Start a monthly prayer night at your city hall…
SJ CITY HALL PRAYER  Jan 25, Feb 29, March 28 (the last Monday of each month)
Join faithful intercessors every month promptly at 7pm at San Jose City Hall.
---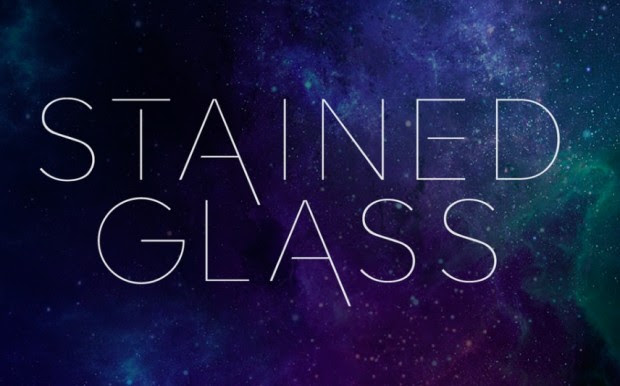 STAINED GLASS Computer Game – #1 Christian Game on Mobile (Available on the App Store)
A new puzzle game from Apple award-winning designers at the world's leading Christian gaming company. Over 7 million people have played Lightside computer games and church leaders are endorsing their newest game. Jack Hayford says, "Stained Glass is truly a revolution in the making. Lightside is putting the gospel into the hands of millions around the world in one of the most innovative ways that I've ever seen – a video game! It brings the Bible to life for so many who might otherwise never experience the wonder of His-story."  http://www.lightsidegames.com/
---
THE COLLIDE third Saturday monthly!  Jan 16, Feb 20, March 19, April 16  Santa Clara
Join Del Augusta and the Collide at 7 pm every third Sat at 1290 Pomeroy Ave, Santa Clara. 866-286-9693. https://www.facebook.com/thecollide, http://thecollide.com/
---
*Know a young adult you could send/sponsor to this impacting conference at UC Davis?  We're sowing into the next generation!


JESUS CULTURE – Annual Sacramento Conference  Jan 22-23  UC Davis
Banning Liebscher is the Director of Jesus Culture, a ministry mobilizing a generation of revivalists and reformers who will shape culture and transform nations. Speakers & Worship: Banning Liebscher, Benny Perez, Chris Durso, Matt Redman, Kim Walker-Smith, Jesus Culture Band, plus more. Early bird registration til Dec 4. http://jesusculture.com/
---
*24 HOUR PRAYER CALL FOR THE PERSECUTED  Jan 29 to Jan 30
From Friday 6pm to Saturday 6pm join Blaine Scogin, Sue Landry and others on a special prayer call for your suffering brothers and sisters around the world. Call 712-775-7035, then access code 281-207#. Mute yourself until you want to offer prayer.
---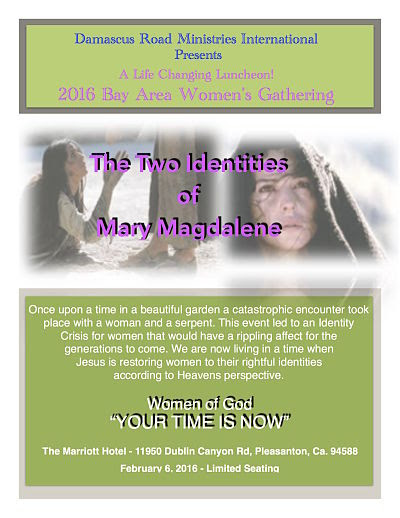 TWO IDENTITIES OF MARY MAGDALENE  Feb 6  Dublin
A Bay Area Women's Gathering Saturday, 9:30am to 5pm with Life Changing Luncheon & breakout sessions. Cost $55 includes lunch at Marriott Hotel. More info atwww.drmi.org.
---
JUSTIN RIZZO – ONE DAY MUSIC INTENSIVE
Feb 27
East Bay Prayer Furnace hosts Justin Rizzo, a senior worship leader from IHOP KC,
Saturday
9 to 5. Age 13 and up. $50. Must register. Details to follow.
http://www.eastbayprayerfurnace.org/
---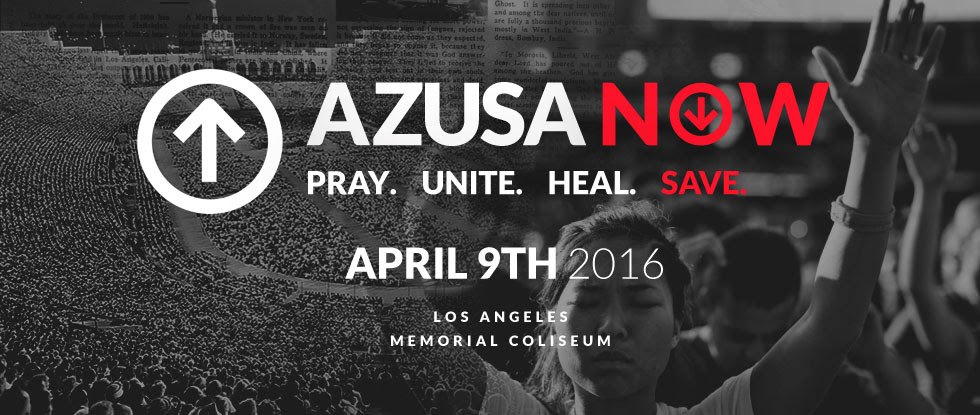 THE CALL AZUSA  April 9  Los Angeles
"My heart is bursting with the heavenly potential of 2015 and 2016. In the midst of the worldwide upheaval of Islamic terror, political confusion, racial tension, and the great moral slide in America we believe that the color line can be washed away in the blood of Jesus and the great outpouring of the Holy Spirit could be unleashed as it was at Azusa Street in 1906. We are believing for stadium Christianity where so many will be saved and touched by the power of God as it was in 1963 where Billy Graham preached to one hundred and forty thousand, in the Los Angeles Memorial Coliseum.
It is precisely in this stadium that we are dreaming that TheCall could be held on
April 9th 2016
, on the one hundred and tenth anniversary of the Azusa Street Outpouring. Can you believe with us that denominations will unite, that the races could come together, that God could make us one, as the antidote to the terrific division in our day? Could you believe with us for stadium Christianity where signs and wonders are breaking out and mass evangelism explodes across our country- the Third Great Awakening?
Sixteen years ago, I asked the Lord, "How can I be apart of turning America back to God?" Out of that prayer, TheCall was born. I don't believe that God will fasten our soul to a dead end vision. I stand in awe of the God who has been faithful to His promises. He will come to us like the rain. Though darkness covers the earth, the Glory of the Lord rises upon us. I pray your heart burns with this faith.  Can a nation be saved? I still believe!  Lou Engle, The Call. 
http://www.thecall.com/
---
Tell your pastor… a sponsored trip to Israel!
ISRAEL TOUR FOR PASTORS  Sept 5-14, 2016 next year
One Message, a ministry of Promise Keepers, is providing a free trip to Israel for 200 pastors (there is a $500 administrative fee). One In Messiah is an event aimed at uniting Jewish and Gentile believers to celebrate and worship the Lord. More info at http://www.theonemessage.org/
---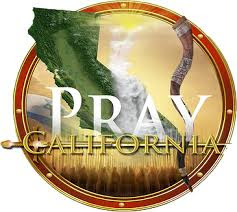 PRAY CALIFORNIA CONFERENCE CALL every Wednesday noon
Join Maryal Boumann on a POWERFUL prayer call for California every Wed at 12 noon. Dial 712-432-0075, then  access code 503 7802#. www.praycalifornia.org.
---
THE PERSECUTION WATCH 6PM every Tues, Thurs, Saturday.
Join Blaine Scogin in a nightly prayer call to pray for the Persecuted Believers around the world. At 6 pm (Pacific) each night dial 712 775-7035 then code 281207#. http://www.30daysprayer.com/
---
AGLOW INTERNATIONAL weekly Monday prayer call 7pm (Pacific)
Join by dialing (712) 432-3066, then code 754058. 
"Blow the trumpet in the land…"  Jeremiah 4:5. Aglow International has an Islam Mandate and an Israel Mandate to pray. Join, AS ONE, as a global voice of prayer on this timely call.
---
ARISE AND BUILD with Vicki Nohrden  5:15 am Thursdays
Every Thursday morning at 5:15 am join a PRAYER Conference Call with Vicki Nohrden. Dial 712-775-7031, access 379503809 #. Press *6 to mute until you are ready to pray.
---
INTERCESSORS FOR AMERICA 
Weekly prayer for the nation; monthly first Friday Fast; connect with a prayer group, receive e-alerts focusing on critical national issues for prayer. https://www.getamericapraying.com/gap
NDP Watchmen of the Night –  2 hour nightly prayer call in affiliation with National Day of Prayer. Dial 712 432-0075, then code 496-1322# 7 nights a week from 7 to 9 PM (Pacific Time). Also, join each morning Monday thru Friday at 7:11am to 8am. Join for all or part of the time.
PRAYER SURGE NOW!
– Prayer Conference Call every Sat at
4:30am to 8am
with Dai Sup Han. Huge variety of guests each week. Call
1-712-432-0075
, access code 6149782#.
www.prayersurgenow.net
REPENTANCE AND RESTORATION PRAYER CALL: Daily nationwide prayer Mon thru Sat from 8:30am to 9:00am. Sundays at 12:30pm to 1:00pm. Dial 712 432-1699 Access Code 338083#. Contact: Judy Garlow Wade: Prayer Coordinator: uohip@cox.net http://randrprayer.org/
FIND or POST an Event with KFAX at http://www.kfax.com/CommunityEvents/
FIND or POST an Event with KLOVE at http://www.klove.com/events/local/
FIND or POST an Event with Nor Cal Christian Events at http://www.norcalchristianevents.com/
FIND or POST an Event with Calling California Christians at http://www.callingcaliforniachristians.com/
FIND or POST a church job at http://www.churchjobfinder.com/

COVENANT EYES – Internet Accountability and Filtering tracks websites you visit on your computers, smart phones, and tablets, and sends them in an easy-to-read report to someone you trust. This makes it easy to talk about the temptations you face online. Toll free 1-877-479-1119 or http://www.covenanteyes.com/
PRESERVE LIBERTY Monthly Prayer Call and Prayer Resources
Praying together and working together, city-by-city, to protect life, marriage, and America's Biblical foundation in a loving, Christlike way. Mark 916 716-1075, http://www.preserveliberty.com/
MONTEREY PENINSULA AGLOW LIGHTHOUSE Mondays  Pacific Grove
House of Prayer, Praise & Presence: Touching, Praying & Saying the Heart of God. An Interactive Experience of Presence-Driven Worship & Flowing in the Spiritual Gifts. Sponsored by Monterey Aglow Lighthouse & Cathryn True Varlet, Lighthouse President. Info: true_music111@comcast.net, (831) 394-4192.
NAOS House of Prayer Berkeley
Meets for prayer Monday thru Friday 7 to 9pm Monday thru Friday. (Friday Devotional/Prophetic Ministry 7pm; 9pm evangelism) at 2404 Dana Street near Channing, Berkeley. Info: http://naoshouseofprayer.org/   
SF HOP every Wed & Friday  San Francisco
San Francisco House of Prayer for All Nations meets Wednesdays at 9pm to 2am, and a Shabbat Watch of the Lord each Friday evening at 6 pm to Saturday 3 am. Located at the Sunset Bible Church on the corner of 1690 21st Avenue & Moraga. Join the San Francisco House of Prayer for All Nations this week (free parking at Chase Bank on 19th Ave & Noriega). http://sfhouseofprayer.org/
SF HOUSE OF PRAYER PRAY & GO every Tues night  San Francisco
Luke 4:18 Outreach Ministry. "Spiritually hungry people sit with us for a free 'Destiny Reading'. The Holy Spirit is always there to speak to hearts, heal, and deliver." From 6pm to 9pm at Cafe International, 508 Haight Street and Filmore. Contact Michael for info or training: 415 374-4025. http://sfhouseofprayer.org/
SUNNYVALE HOUSE OF PRAYER 7:30 pm Tues Evenings
Call 408 732-5422 for directions.
EAST BAY PRAYER FURNACE 
Prayer Room open til midnight Saturdays. Prayer Room open 5 am to 10 am Monday thru Friday at Good News Fellowship, 6500 Dublin Blvd, Suite D, Dublin. Friday Night Burn Service 7pm at 7372 San Ramon Rd, Dublin. http://www.eastbayprayerfurnace.org/# https://www.facebook.com/EBPrayerFurnace
CONVERGENCE HOUSE OF PRAYER Fremont
Open for Prayer 50 hours a week! Encounter God. Come join us as we declare the worth of Jesus in Fremont! Also, hosting cHOP Healing Rooms! At 200 Hammond Ave, Fremont, 510 656-2335. www.ichop.org
KEY 22 INTERCESSION FOR SONOMA COUNTY & Nor CAL (formerly Sonoma County House of Prayer)
Now open every Wednesday 7 – 9pm and every Friday from 7pm to 10 pm and 3 to 7am Saturday, Santa Rosa. Check web for location. 707 344-7682. www.sonomacountyhop.com
---

BAY AREA HEALING ROOMS http://healingrooms.com/
~San Francisco Healing Rooms
Meets 3rd Friday 6pm to 9pm and 3rd Saturday from 9am to 12 noon at 1690 21st Ave, SF. www.healingrooms.com/us1832
~cHOP Healing Rooms (Convergence House of Prayer) Fremont
Now open! on the 1st Sunday and 3rd Friday of each month from 4 to 6pm. No appt required. Register from 3:45pm to 5:30pm. At 200 Hammond Ave, Fremont.www.ichop.org. Questions: email healingrooms@icHOP.org
~ Silicon Valley Healing Rooms
at 557 Hyannis Dr, Sunnyvale. Meets 1st & 3rd Tuesdays each month at 11am to 1pm and also, 7 to 9pm. Email for info siliconvalleyhealingrooms@gmail.com  or call  650 930-6843. siliconvalleyhealingrooms.com.
Sonoma County Greater Works Healing Rooms
Every 1st and 3rd Saturday at 9-11am and on the 2nd & 4th Tuesdays at 7 to 9 pm at Vertical Call in Santa Rosa, 920 Bennett Valley Rd. Also, a Miracle Service every 2nd Sunday monthly at 8:30 and 10:30 am.
~ Healing Room of Vallejo
Northbay Foursquare Church, 330 Avian Dr, Vallejo. First and Last Sat of each month at 10am to noon. 707 554-8282.
~ Milpitas Healing Rooms
3435 Birchwood Lane (Milpitas Christian School), San Jose, 1st and 3rd Sundays, 2pm to 4 pm, https://sites.google.com/site/milpitashealingrooms/
~ Redwood City Healing Rooms
At Tapestry Church, 1305 Middlefield Rd, Redwood City, on the 2nd and 4th Saturdays at 10am to noon. Call 650 861-2581.
~ Hayward Healing Rooms
At Community of Grace, 380 Elmhurst St, Hayward on the 1st Monday & 3rd Thursday at 7pm to 9pm. Call 510 783-8062 x 34. No appt necessary. Last person must be checked-in by 8:30pm. Come & meet the Great Physician! 380 Elmhurst St., Hayward. Pastors & Directors Theresa Evangelista & Debora Spotted Eagle, 510-783-8062 ext 34, nativeindianpeace@yahoo.com.
~ Healing Rooms of Vacaville 707 344-7725.
~ Healing Rooms of Napa
The Healing Rooms of Napa Valley is reaching out to the community. Questions, or to schedule appt, or to submit prayer requests email healingrooms@napaarise.com,www.NapaArise.com.
~ Delta Healing Rooms
Of East Contra Costa County on Thurs nights, 6pm to 7:30pm, and First Saturday each month at 10am to noon. www.oaktreeministries.net
~ Healing Rooms of Modesto
Every 2nd and 4th Friday monthly 7pm to 9pm with soaking prayer at the Modesto Star of David Church, 1130 1/2 6th St.
---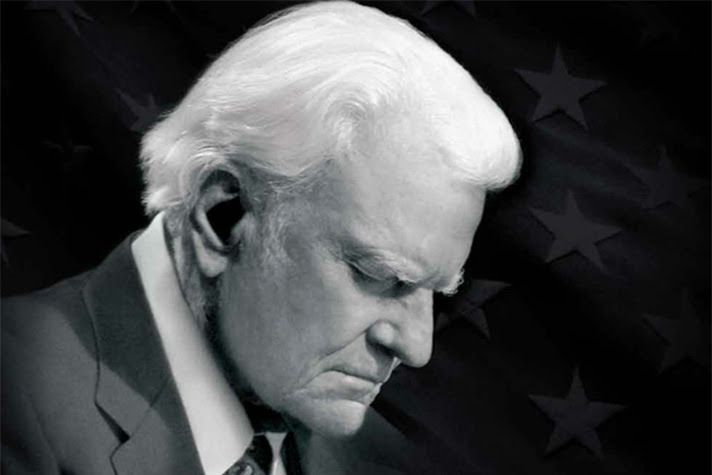 Billy Graham's Prayer for the New Year
This prayer from Billy Graham, written for The Saturday Evening Post in 2008, is just as relevant this year.
"Our Father and our God, as we stand at the beginning of this new year we confess our need of Your presence and Your guidance as we face the future.
We each have our hopes and expectations for the year that is ahead of us—but You alone know what it holds for us, and only You can give us the strength and the wisdom we will need to meet its challenges. So help us to humbly put our hands into Your hand, and to trust You and to seek Your will for our lives during this coming year.
In the midst of life's uncertainties in the days ahead, assure us of the certainty of Your unchanging love.
In the midst of life's inevitable disappointments and heartaches, help us to turn to You for the stability and comfort we will need.
In the midst of life's temptations and the pull of our stubborn self-will, help us not to lose our way but to have the courage to do what is right in Your sight, regardless of the cost.
And in the midst of our daily preoccupations and pursuits, open our eyes to the sorrows and injustices of our hurting world, and help us to respond with compassion and sacrifice to those who are friendless and in need. May our constant prayer be that of the ancient Psalmist: "Teach me, O Lord, to follow your decrees; then I will keep them to the end" (Psalm 119:33).
We pray for our nation and its leaders during these difficult times, and for all those who are seeking to bring peace and justice to our dangerous and troubled world. We pray especially for Your protection on all those who serve in our armed forces, and we thank You for their commitment to defend our freedoms, even at the cost of their own lives. Be with their families also, and assure them of Your love and concern for them.
Bring our divided nation together, and give us a greater vision of what You would have us to be. Your Word reminds us that "Blessed is the nation whose God is the Lord" (Psalm 33:12).
As we look back over this past year we thank You for Your goodness to us—far beyond what we have deserved. May we never presume on Your past goodness or forget all Your mercies to us, but may they instead lead us to repentance, and to a new commitment to make You the foundation and center of our lives this year.
And so, our Father, we thank You for the promise and hope of this new year, and we look forward to it with expectancy and faith. This I ask in the name of our Lord and Savior, who by His death and resurrection has given us hope both for this world and the world to come.  Amen."
---
"Jesus, I plead your blood over my sins and the sins of my nation. God, end abortion and send revival to America."
http://sfhouseofprayer.org/wp-content/uploads/2013/04/san-francisco-house-of-prayer-for-all-nations-logo.png
0
0
V
http://sfhouseofprayer.org/wp-content/uploads/2013/04/san-francisco-house-of-prayer-for-all-nations-logo.png
V
2016-01-01 01:10:40
2020-12-21 14:51:29
Dec 2015 SF Events